Remote Controlled Door Lock NOAKEL® EXC-7500D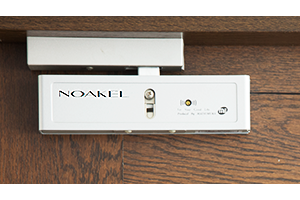 Features
Remote Controlled Door Lock NOAKELR EXC-7500D is a remote control electronic locking system attached to inside access door. Auto-lock release feature controlled by remote controller and phone unlocking device.
Functionality
1.Main Unit
 ・Secure lock featurs
 ・Ability to register a maximum of 25 remote controls & phone unlocking device
 ・Registerd remote controls can control multiple main units
 ・Constant auto-lock release
 ・Security alarm
 ・Battery warning system
 ・Adjustable alarm volume
 ・Exterior power option
 ・Locking/Unlocking functions trigger sound & LED lamp
 ・Optional setup ideal for apartments, houses, office, etc.
2.Remote Control
 ・Capacity: 5 milion kinds; superir precision ID

3.Phone Unlocking Device
 ・Connect to wireless and landlines
 ・Passwords require 4 to 12 characters
 ・Remote control unlocking from house phone.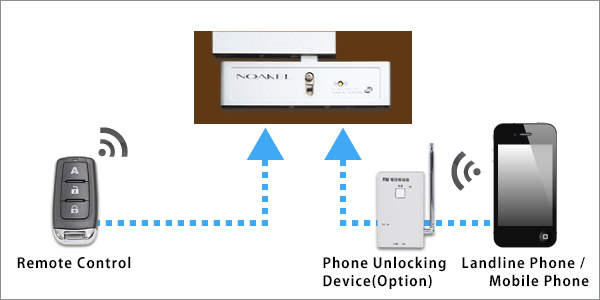 Download Catalog
EXC-7500D Specifications
Power Supply
Two (size) AA batteries
Button
Registration Button
Control
By Remote Control, Phone Unlocking Device, and Exterior Control Option
Display
LED indicatorlamp
Battery Life
Approx. 1 year
Alarm Volume
Max. 85 dB/1m
Bolt Strength
Mx. 300kg(Approx.) (Based on our test resuts)
Remote Control
Ability to register a maximum of 25 remote controls.
Wireless ID Code
Approx. 5 billion kinds.
Antenna
Stainless Steel 14cm
Dimensions
192mm(Width) x 38mm(Length) x 50mm(Height)
※without Bolt and Antenna
Weight
Approx. 0.7kg (without batteries)
Storage Temperature
-20 – 60℃
Usage Temperature
-10 – 45℃
Usage Humidity
25 – 90%RH (without condensation)
Outline drawing
Download Blueprint